When googling things to do for your upcoming trip to Turkey, Hammams (Turkish Baths) will come up more often than not. Traditionally, hammams came from Roman and Byzantine baths as part of the Roman Empire's influence. Baths served dual function of cleaning and purifying the body and soul. Popularized around 600 AD, hammams were also spaces where major life events were celebrated, and bathing rituals were incorporated into weddings and births.
Having done many traditional bathing and massage experiences (Japan, Nepal, Costa Rica, etc.) we actively seek out advice for cultural norms in these situations. They are intimate to say in the least. We went to the Panoramic Cave Hotel Hammam in Goreme, Cappaddocia. Here are some important tips to keep in mind for your first Hammam experience: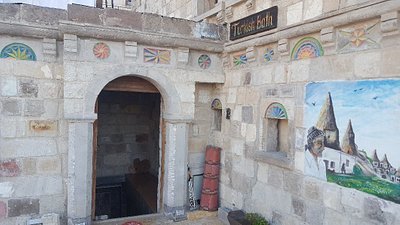 You will likely be entirely naked – We had robes and slippers upon entry into the spa area where we immediately sat in a tiny sauna room together. When the two hammam ladies moved us to the bath area, they helped us undress and we had nothing but a wash cloth on our private bits. And for me, that only meant my lower half. Breasts to the world! Shy folks be warned.
Options can be gender separate or together – We went to a smaller hammam in Goreme and given COVID restrictions, the actual bath house only had us as guests. Given we are a married couple we had the hammam together, however in larger hammams there would be a gender split and likely more privacy between guests. We had every activity together from sauna to bath to massage. If you're visiting with a friend, you may end up getting extra comfortable with them during your hammam visit. It appeared to be only women working at the hammam, so likely if you were a single man, you would be bathed by women as well.
It will feel like you are a lamb for slaughter laying on the marble slab – I could not help but think we were at an altar for sacrifice. After the 10 minute sauna room, we were moved to an enormous marble room, with a block of marble (roughly 7ftx7ftx3ft) in the center. We were told to lay on the marble block and there was a tiny washcloth under our neck and head for additional support. Typically in a massage scenario, there is darkness and a more warm and intimate setting. This was not massage ambiance. It was bright white marble which reflected any amount of light in the room. Very bright and made me all the more shy about my exposed body on an elevated surface. I always remind myself, they have seen weirder bodies, right?
Lyrical pouring of water – Once I got over my own self-consciousness, I was able to really enjoy the movements and bath. Similar to a massage, they had us start on one side and flip to the other halfway through. They each had wide copper bowls they would fill in the fountains and pour in a coordinated fashion down our bodies. The marble room was loud with the splashing of water off the floor, but it turned into ambient noise as they poured bowl after bowl on us, starting from one end and pouring down to the other. It felt WAY better than I ever expected. It was a subtle form of massage between the speed of pour, gravity and the amount of water in the bowl. I would absolutely have done a 2 hour version of just the bath had we been able to. We both entered a flow state and were feeling very relaxed by the time they wrapped up and took us to the massage room.
Massage was lengthy and could have stood on its own – After a seemingly long bath experience (~45min-1hr) we were not expecting a very long massage. We ended up getting an hour-long massage after the bath itself, which would have been fantastic even on its own. We have been in countries that don't apply much pressure at all during massages, however these masseuses had adequate pressure and a lovely massage room.
Prices will be in euros or USD – This was a surprise even with our rug buying experience. Why not in Turkish Lira? We had to stop by an ATM to get enough cash to pay for the hammam, which totaled around $200 USD for the two of us. This was a fantastic price. I've had 45min massages in the US for $100+ and not nearly as enjoyable or as long. The entire experience was almost 3 hours. Save a little extra for tip and don't visit Turkey without enjoying a hammam!
If you want to watch an entirely uncomfortable Rick Steve's hammam experience, feel free to check it out here. Otherwise check out my 3 weeks in Turkey ultimate itinerary!
Have you had experienced a hammam before? Was it similar or different than our experience?